2021 Event Overview | A full day of world-class sessions and speakers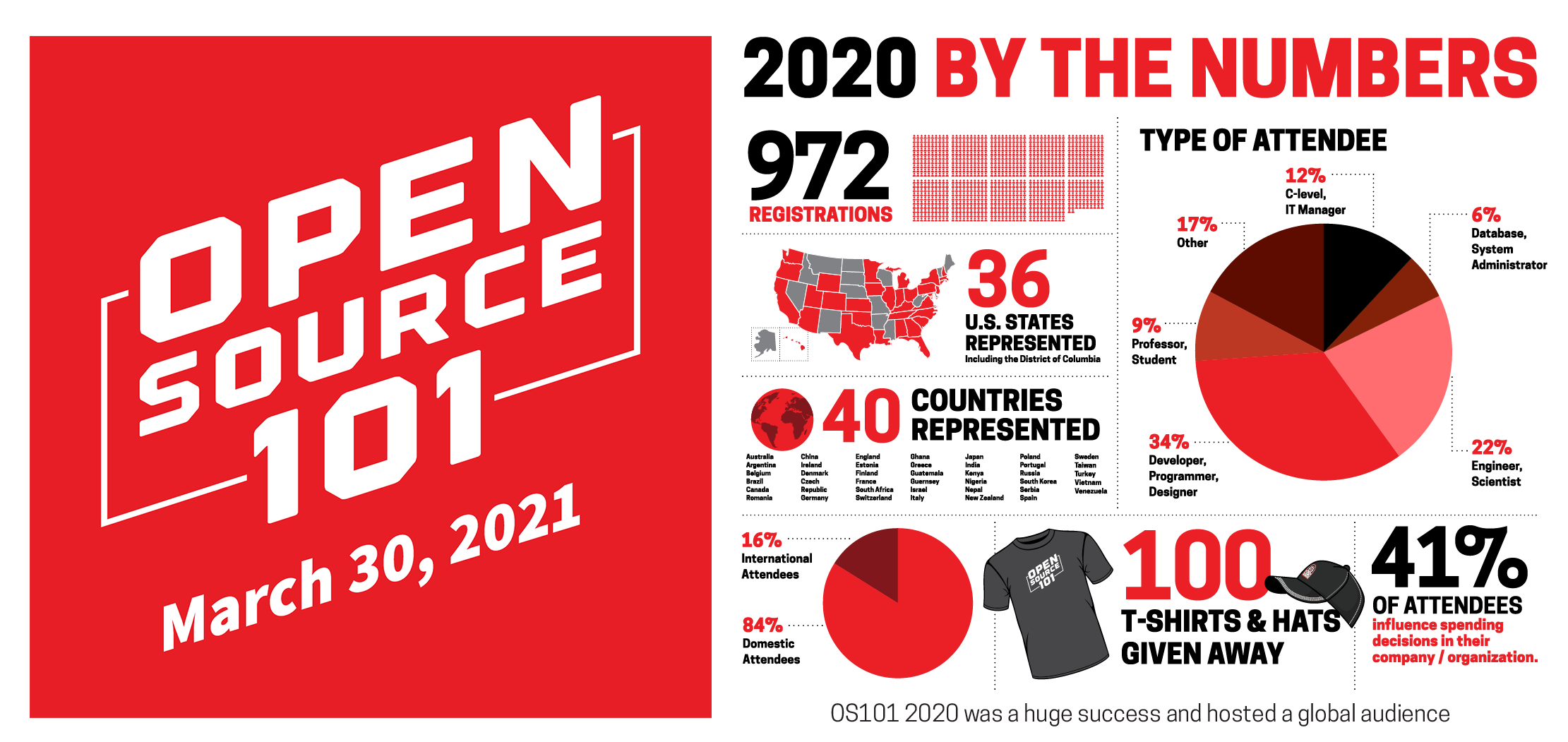 Open Source 101 2021 will take place Tuesday, March 30, and we invite everyone in our community to register and spread the word!
This will be the 8th 101 event we've hosted over the last 5 years and we continue to do it because of one belief – a firm grasp of open source basics are a necessity in today's modern technology environment. Simply out, without them entry into the field and career progress can be thwarted.

The Details 
What: Open Source 101 2021
When: Tuesday, March 30
Time: Programming runs from 10:00 am ET to 5:00 pm ET
Format: Morning 15 minute keynote talks followed by 45 and 90 minute sessions across 7 tracks

Session Topics
While the full schedule will be announced/released Tuesday, February 23, just a few of the sessions and topics to be featured include:
Programming
The Many Ways to Contribute to Open Source + Best Practices and Examples
Open Sourcing an Internal Tool: Strategy, process, best practices and considerations
Open Source Licensing: Types, Strategies and Processes
Building a technical documentation static site for open source projects
Open Source Governance 101
Open Source Community Engagement Best Practices and Health Checks
Accessibility Best Practices and Must-Do's
Being an Open Source Project Maintainer: Strategy and best practices
Innersource 101
Open Source Governance 101
My first pull request
Technologies
Machine Learning Open Source Tool Stacks: Current and best options
The "Perfect" JS Library Tooling
Automating Developer Things with GitHub Actions
A starters guide to building APIs with Javascript
The Changing Landscape of Open Source Databases
Go With the (OAuth) Flow
Kubernetes – A Beginners & Intermediate Guide
An Introduction to MySQL Indexes & Histograms
Improve your git commits in two easy steps
Linux 101
Speakers
While the full speaker list will be released Tuesday, February 23 just a few of the speakers to be featured include:
Registration
Thanks to our amazing Presenting level sponsors, registration to Open Source 101 2021 is absolutely FREE and includes all programming and networking opportunities.