Corona Virus Statement
Open Source 101 Austin – Corona Virus Update and statement
While we truly love hosting technology and open source events, what we love even more is looking out for the safety and well being of attendees and participants of all types.
At the moment, we do plan to host the Open Source 101 event planned for Tuesday, April 14 in Austin, TX at the Austin Convention Center.  However, in keeping attendee and participant safety top-of-mind, we will continue to monitor the situation closely over the days ahead for changes and updates and we will respond and act accordingly. The next week will be especially important, and we will provide consistent updates across our media channels, including the website, email and social media.
Factors Impacting Our Decision
Several factors are impacting our decision, at least for the moment, to move forward with the event:
1. No official travel restrictions for the United States have been issued by the Centers for Disease Control and Prevention (CDC) and the World Health Organization (WHO) that we are aware of.  This is not the case worldwide of course, and we'll continue to monitor bulletins and updates for changes.
The CDC has issued travel warnings, which look like the following:
·       Level 4 (No Travel)
·       Level 3 (Avoid all Non-Essential Travel)
·       Level 2 (Take Extra Precautions – Elderly, Chronically sick)
·       Level 1 (Normal Travel Precautions).
Current global warnings are the following:
·       Level 3 – (China, Iran, S. Korea, Italy)
·       Level 2 – Hong Kong
·       Level 1 -Japan
There are currently no travel warnings for travel within the United States that we are aware of.
2. While an increase in the number of verified U.S. infections will certainly increase with increased and improved testing in the days and weeks ahead, the overall risk in the U.S. appears to be quite low, at least at the moment and when the number of infected persons / populations are compared to the overall population.  This is not meant to minimize risk or diminish the perception of potential impact in any way.  Rather, we are trying to look at the facts as they currently exist.
To quote the CDC:
Current risk assessment:
For most of the American public, who are unlikely to be exposed to this virus at this time, the immediate health risk from COVID-19 is considered low.
People in communities where ongoing community spread with the virus that causes COVID-19 has been reported are at elevated, though still relatively low risk of exposure.
Healthcare workers caring for patients with COVID-19 are at elevated risk of exposure.
Close contacts of persons with COVID-19 also are at elevated risk of exposure.
Travelers returning from affected international locations where community spread is occurring also are at elevated risk of exposure.
3. We do not expect international attendees at the event, and instead, expect the overwhelming majority of attendees to come from the Austin/Dallas/Fort Worth and surrounding areas.  In addition, many companies involved in the event have a presence in the area and may/will not have to send team members from far away places.  We are not aware of the reporting of major outbreaks in this area of the U.S., but will certainly continue to monitor the situation for changes.
4. We are taking clear and decisive steps to reduce the possibility of infection or outbreak both pre-event and at the event on-site, and we are talking to as many people and partners as possible to do it.  While much is not known about COVID-19 virus, almost all prevention recommendations we have seen are ones people planning to attend the event and people on-site can follow if safety and the safety of others is a priority.  We would like to believe safety in all its derivations is and will remain a priority, and we will provide reminders and guidance stating as much at every opportunity.
Who are we talking to / what are we referencing?
First and foremost, we remain in close communication with the Austin Convention Center, since it's the host location and where conference activities will be centered. As you might imagine, they are staying on top of the situation and have issued multiple statements and updates.  Here is the latest.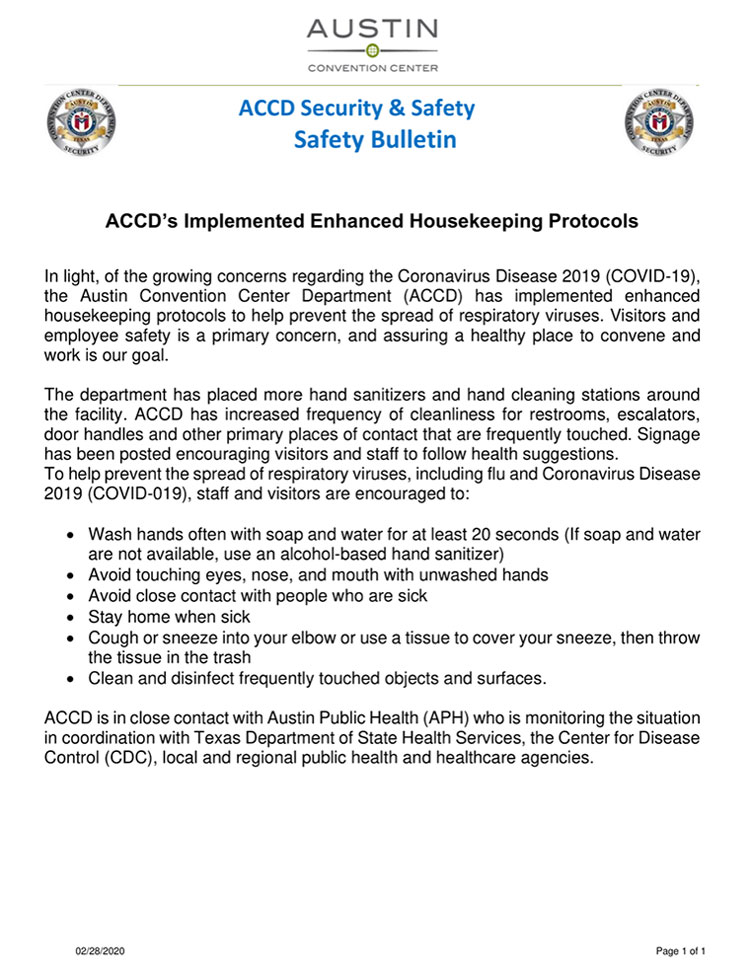 As you can see, the Convention Center and our points of contact are doing everything possible to provide guidance and implement policies designed to protect participants.
We are also monitoring the AustinTexas.Gov website, and specifically the portion dedicated to Coronavirus updates — http://www.austintexas.gov/COVID19.  Officials are doing an excellent job keeping the site updated and we will continue to keep a close watch.
In addition to focusing locally, we are watching and monitoring national and international sources for guidance and updates.  These include the Centers for Disease Control and Prevention (CDC) and the World Health Organization (WHO).  Specifically, we are paying close attention to the following sources within these larger portals:
We are also watching The Linux Foundation and how they are handling the situation.  In short, they've got a great team and host events throughout the world, and they do a wonderful job.  Here is an update as of March 2.
Finally, we have read this document attempting to put the situation in perspective. We feel it's important to read as much as we can, including opinions and pieces "outside" the mainstream.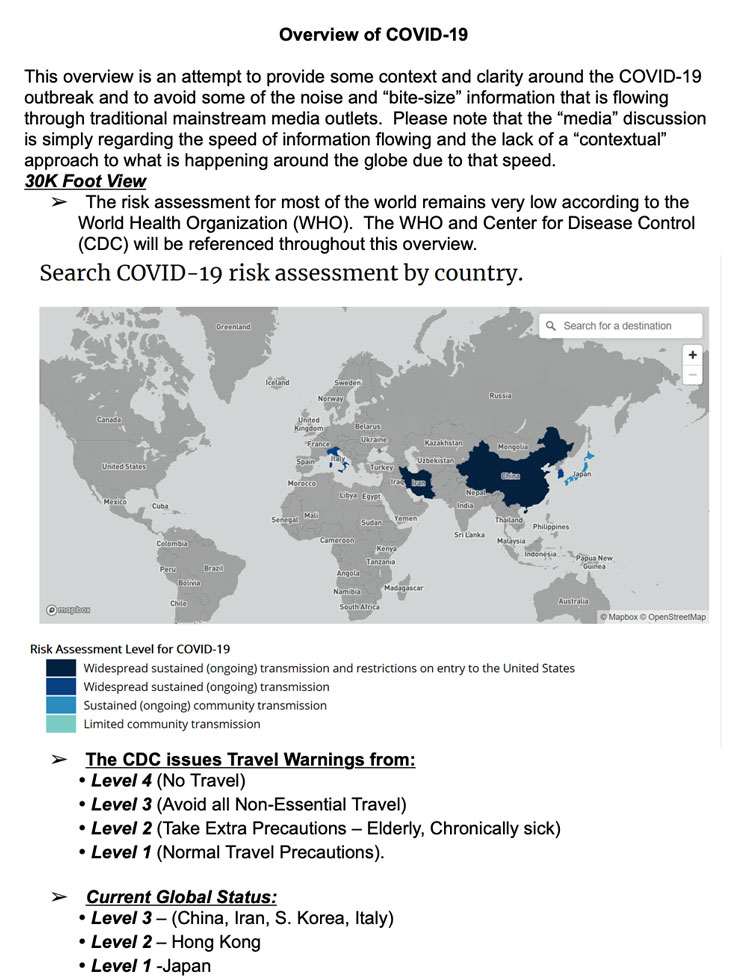 Recommendations / Action Items
While the final list and range of policies and protective measures put into place will almost certainly change between now and April 14, listed below are a few items we would like to identify now.
Pre-Event:
We ask prospective attendees that will visit a travel restricted country 14-21 days prior to April 14 to refrain from attending. *We will ask everyone registered to verify this via email prior to arrival as well as on-site.  Anyone not verifying it will not be allowed to enter the event.
We ask anyone that feels they have been exposed in any way, or might be experiencing symptoms of COVID-19 to refrain from attending, for your own safety and the safety of others.  We also ask people to err on the side of caution rather than assuming everything is ok.
We ask high-risk people to consider attending very carefully and ask they err on the side of caution.  This includes people 60 and over; those with underlying health conditions such as heart disease, lung disease, or diabetes; people with a weakened immune system; and anyone who is pregnant.
We ask everyone to read the CDC and WHO websites prior to attending, as well as other local sources of information, to be as educated and aware as possible. For example, research suggests COVID-19 is spread primarily when an infected person sneezes or coughs and distributes virus-containing saliva or mucus droplets within a roughly six-foot radius.  So, plan to stay at least six feet away from anyone coughing and sneezing, or that is visibly ill.
On-Site:
The Austin Convention Center Department (ACCD) has placed more hand sanitizers and hand cleaning stations around the facility.
ACCD has increased frequency of cleanliness for restrooms, escalators, door handles and other primary places of contact that are frequently touched.
We are asking ACCD to clean and disinfect frequently touched objects and surfaces and they are encouraging and enabling staff members to do this.
We are adopting a no-handshake policy for attendees and all participants.
We are asking attendees and participants to remain several feet apart if possible when communicating (social distancing).
We have secured a good amount of floor space for the event, to allow for spreading out and reduce the possibility of crowding.
We are working with a 3rd party to make QR code reader/badge scanner devices available to sponsors, to eliminate the need to exchange business cards or other marketing materials.
Also:
Signage has been posted around the Convention Center encouraging visitors and staff to follow health suggestions.
To help prevent the spread of respiratory viruses, including flu and Coronavirus Disease 2019 (COVID-019), ACCD staff and visitors are encouraged to:
Wash hands often with soap and water for at least 20 seconds (If soap and water are not available, use an alcohol-based hand sanitizer)
Avoid touching eyes, nose, and mouth with unwashed hands
Avoid close contact with people who are sick
Stay home when sick
Cough or sneeze into your elbow or use a tissue to cover your sneeze, then throw the tissue in the trash
Finally, we'll wrap this up where we began – with a commitment to keep everyone updated as conditions and decisions evolve and change.  We are making an honest effort to stay on top of things and we will continue to do so moving forward.
Please contact us directly at [email protected] with any suggestions or comments.  Again, we are open to all the help and assistance we can get.