Open Source 101 at Home – Registration Now Open!  First 250 FREE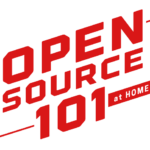 Last week we announced that we're hosting Open Source 101 for the first time as a 100% virtual event on Tuesday, May 12.  Given the unprecedented times and the tremendous need for foundational open source education, we felt it was the right thing to do.This week we're extremely pleased to announce registration is now open for Open Source 101 at Home, and the first 250 tickets are FREE.
The event will feature 20 world-class speakers delivering 15, 45 and 90 minute sessions on topics we feel are foundational to open source, open tech and the open web. In sum, these topics cover processes and technologies at an introductory and / or intermediate level, and they're ones every technologist should have a basic understanding of, regardless of title or years of experience.
The first 250 tickets are FREE, and are available on a first-come first-served basis.  The cost is just $19 USD once all free passes are claimed.  That equates to less than $1 USD for each session.
Registration includes all programming and networking, and the platform we've chosen to host the event on will allow and facilitate networking among attendees.
Questions about Open Source 101 @Home should be directed to the All Things Open team at info@allthingsopen.org.