Spark in Action eBooks to be given away, courtesy of Manning
Five (5) Spark in Action eBooks will be given away at Open Source 101 2019.
The eBooks will be given away during Jean Georges Perrin's Big Data Made Easy with Spark session scheduled from 1:30 – 3:15 pm ET on the Cloud / Big Data track.  
The session is 1.5 hours to allow for a deeper dive into this important technology. Spark is a very popular distributed data processing platform used in many enterprises today, which is one of the many reasons we're encouraging attendance.  
A little about Big Data Made Easy with Spark:
The Spark distributed data processing platform provides an easy-to-implement tool for ingesting, streaming, and processing data from any source. In Spark in Action, Second Edition, you'll learn to take advantage of Spark's core features and incredible processing speed, with applications including real-time computation, delayed evaluation, and machine learning. Spark skills are a hot commodity in enterprises worldwide, and with Spark's powerful and flexible Java APIs, you can reap all the benefits without first learning Scala or Hadoop.

Unlike many Spark books written for data scientists, Spark in Action, Second Edition is designed for data engineers and software engineers who want to master data processing using Spark without having to learn a complex new ecosystem of languages and tools. You'll instead learn to apply your existing Java and SQL skills to take on practical, real-world challenges.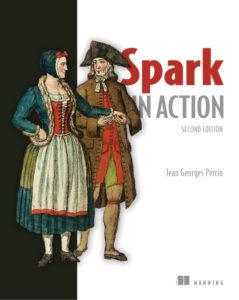 Questions about the eBook or Jean Georges' session can be directed to the Open Source 101 team directly at [email protected].